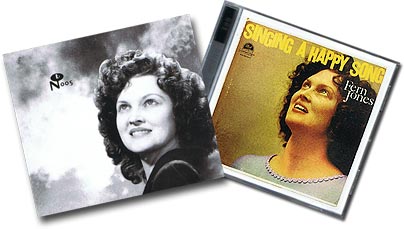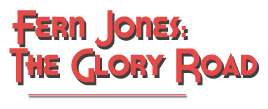 Release Notes Interview Buy the CD


3rd Coast News
Ray Wylie Hubbard concludes his intro to When She Sang Amazing Grace, "I came to find there wasn't much call for honky tonk gospel music." Over 40 years ago, Fern Jones came to find there wasn't much call for rockabilly gospel music. After 20 years of performing in tents and churches, the ordained Pentecostal minister recorded a sensational album in 1959, but today the players on it, Hank Garland, Floyd Cramer, Buddy Harman and Jerry Zinkan, who'd backed Elvis Presley on his 1958 sessions, are far better known than she. How Jones might have done given half a chance is now impossible to know, but shortly after releasing her LP, Singing A Happy Song, Dot folded its gospel division, leaving her without a single and, therefore, no airplay. After a two month promotional tour, she quit performing entirely. The story behind this reissue is almost as amazing as the album itself. When Gulf + Western bought Paramount, it ordered the entire Dot catalog to be deleted, but somehow Jones' tapes survived and, after the ten-year lease expired, she spent 15 years badgering successive owners until MCA returned them in 1983. In 2004, her daughter heard Numero Group's heads on NPR discussing another release, contacted their mastering engineer, Jeff Lipton, and asked him to transfer her mother's almost 50 year old masters. "The tape played as though it had been recorded the week before. Not a hiccup or a drop out." Featuring several originals, notably I Was There When It Happened, a Johnny Cash standard from the beginning of his career, along with arrangements of Sister Rosetta Tharpe's Strange Things Are Happening Every Day and Didn't It Rain, Thomas Dorsey's Take My Hand, Precious Lord and other gospel standards, the original album is supplemented by four tracks originally released on 78s which Jones and her preacher husband sold at meetings, and all I can say is that the label's 'Patsy on Jesus' tag is by no means farfetched. If you're into rockabilly or vintage gospel, let alone both, you're going to love Fern Jones
Austin Chronicle
"Reissues" by Darcy Stevens
The name is unfamiliar, but the sentiment is clear. Fern Jones was an Arkansas preacher's wife who toured the South with her husband's revival show. The closest Jones came to fame was "I Was There When It Happened," a song she penned, covered by Johnny Cash, and bought by Jimmie Davis, who received the acclaim. Jones recorded one record for Dot Records in 1959, Singing a Happy Song, just as country began leaning toward a less holy sound. Perhaps the sentiment voiced by Sun Records' Sam Phillips in Cash biopic Walk the Line – "Gospel don't sell" – is what ultimately ended Jones' career in 1960. Numero reissue The Glory Road is a remastered version of Singing a Happy Song along with four bonus cuts. The result is Patsy Cline-like praise that even nonbelievers will love. "I Do Believe," Sister Rosetta Tharpe's "Strange Things Happening Every Day," and "Didn't It Rain" mesh gospel, country, and rock & roll in a way only the greats mastered, thanks to Jones' rowdy alto and Hank "Sugarfoot" Garland's rockabilly guitar. Church sure would be more fun with a little rock & roll worked into the sermon. Praise Jesus.
Cross Rhythms (UK)
RATING










Reviewed by Mike Rimmer
In the '40s and '50s Fern Jones played churches and tent meetings in the southern USA and wrote plenty of songs. Though she recorded during that period what people called vanity records and what we'd call today independent albums, it wasn't until she signed to Dot Records in the late '50s that she got a proper album down. It's now considered a bit of a classic and has been re-released on CD. Backed by guitarist Hank "Sugarfoot" Garland, pianist Floyd Cramer, bassist Joe Zinkan and drummer Buddy Harman, these top Nashville sessioners had just completed some recordings with Elvis Presley before getting these tracks down. Mixing her own compositions with well chosen covers including some songs from another singing sister, Rosetta Tharpe, this album swings! Mixing blues, country, Southern gospel and rock'n'roll together, this is raw and yet topped by Jones' forceful voice, it's really something. Highlights include Tharpe's "Strange Things Happening Every Day" which rocks and "You Ain't Got Nuthin'" which has a Saturday night bluesy feel. The most famous song here is "I Was There When It Happened" which was covered by Johnny Cash on his debut album for Sun Records. A couple of years after these recordings, having failed to have a hit, Jones retired from making music. This is a brilliant period piece of rockabilly gospel music.

Tucson Weekly
"Rhythm & Views" by Carl Hanni
Pretty much the missing link between the sacred and the profane, Fern Jones' The Glory Road is one of the purest blends of gospel and rock 'n' roll music ever recorded. Jones made just two records before disappearing into obscurity. Originally released in 1959 as Singing a Happy Song, The Glory Road has been re-released into a very different world by the Numero Group.
Fern Jones was a preacher's wife from Arkansas who performed in literally thousands of churches' tent revival shows around the country for two decades. Sounding like Patsy Cline in church or a hands-off cousin of Carl Perkins or Jerry Lee Lewis, Jones fully erases the line between the secular and the spiritual with her songs and her performance. Backed by four members of Nashville's A-list of sessions players (Hank Garland, Floyd Cramer, Joe Zinkan and Buddy Harman, all fresh off sessions with Elvis Presley), Jones tears, burns and testifies through 16 tracks of transcendental rockabilly gospel. Powered by Cramer's swinging piano and Garland's guitar, "You Ain't Got Nothing," "Strange Things Happening Every Day" and "I Ain't Got Time" rock as hard as anything the boys at Sun Records were laying down. Others like "Keeps Me Busy" and "I Am a Pilgrim" are more traditional gospel numbers.
Her song "I Was There When It Happened" was a hit for Jimmie Davis and recorded by Johnny Cash and others, but Jones herself had no real commercial success as a performer. The Glory Road is a remarkable time capsule, proof that there are still rocks to be rolled over, revealing lost and forgotten treasures.


The Nashville City Paper
"Riffs" by Ron Wynn
Fern Jones has long been one of those names usually heard in collector's circles, a reportedly incredible performer whose few recordings got lost in the shuffle decades ago and have never resurfaced except at auctions. But now, thanks to the release of The Glory Road (Noo5), some 16 Fern Jones songs are now available. They reveal that she indeed was a vocal marvel, a charismatic and extremely powerful singer whose lyrics were resolutely fundamentalist but whose approach was straight first-generation rock 'n' roll. Hearing her on such numbers as Sister Rosetta Tharpe's "Strange Things Happening Every Day," the Rev. Thomas A. Dorsey's "Take My Hand, Precious Lord" or her own arrangement of "You Ain't Got Nuthin'" is extremely revealing, with the edge and intensity seeping through despite the atmosphere of reverence and tranquility. Jones occasionally displayed on songs like "I Was There When It Happened," "Didn't It Rain" or "I Ain't Got The Time" that she'd heard quite a bit of other styles beside Pentecostal hymns, and this disc offers a fascinating and intriguing look at a performer who might have enjoyed extraordinary impact if she had made the transition to secular music during the advent of rock 'n' roll.

It must have been fun to go to a makeshift tent revival in the Deep South during the '50s, with lots of clapping, shouting, and smiling in the name of the Lord. And singing! A complete unknown now, the late Fern Jones sang in more than 2000 tents and churches between 1940 and 1960. This reissue of a dusty 1959 Dot Records album (originally titled Singing a Happy Song) represents her final crossover attempt. The Glory Road is quintessential hillbilly gospel, backed by Elvis Presley's 1958 studio band, and sung by one of the sassiest preacher's wives ever to set foot in a sanctuary. While the King brought the fervor of the church to rock & roll, Jones did the opposite, seizing the new, powerful music for the glory of God. A small-town girl--El Dorado, Arkansas, namely--Jones sang with a sweet drawl sparked with "ain'ts" and "nothin'"s. But a touch of sensual swagger shows that she dabbled in Saturday-night honky-tonks before her husband swept her off her sixteen-year-old feet and decided they would spend their lives spreading the good news. On this disc, Jones will help you learn your lessons well--"Be Thankful You're You" warns against coveting thy neighbors things, "Let Tomorrow Be" begs us to live for today, and "You Ain't Got Nothin'" pities those who have yet to be saved. She'll also want to make you shake your hips--an urge her tent-following fans were forbidden to indulge.
Salon.com
"Audiophile" by Thomas Bartlett

Reissue label the Numero Group, which I love more with each release, is back with another treasure, the recordings of Fern Jones, the wife of a traveling minister who, in the late 1950s, recorded a handful of gospel songs with a touch of then cutting-edge rockabilly style. Patsy Cline is the obvious reference point for Jones' voice, big and rich and brimming with confidence, but Jones' is somehow roomier, more open and relaxed, and where Patsy liked to phrase a melody with sinuous grace, Fern preferred a blunter, more emphatic approach. It's also a voice that sounds like it had other things than God on its mind, giving even her most straightforwardly devotional songs a subversive frisson of the secular. For her biggest session, Jones was accompanied by a quartet of top Nashville session players, fresh from a session with Elvis and including the guitarist Hank "Sugarfoot" Garland, who gives a blazing but effortlessly tight performance on this track, a version of Sister Rosetta Tharpe's "Strange Things Happening Every Day."
Amazon.com

Sometimes it takes the genius and adoration of a small record label like Chicago's Numero to unearth a bounty virtually fictional but for the several hundreds who listened and observed a half-century ago. Born in 1923, Fern Jones was a gifted songwriter with a deep-from-the-chest singing voice that was as much Lightnin' Hopkins as it was Patsy Cline. Her husband a preacher, Jones left the honky-tonks to perform by his side in Pentecostal churches and revival tents during the forties and fifties, her original and traditional gospel hymns always dotted with the blues and pop variations that inspired her. What those fortunate few were able to witness was put to vinyl by Dot Records in 1959, backed by noted Elvis studio musicians Hank Garland (guitar) and Floyd Cramer (piano), and available here for the first time since. It includes six Jones originals, including "I Was There When It Happened," covered by Johnny Cash during his first session for Sun Records. Fern Jones died in 1996, but thankfully--though 50 years after the fact--her music lives on with the vitality and clarity her underappreciated talent provided. --Scott Holter

Bankrobber Music

Leave it to the fine fellows at Numero to dig up a long-forgotten, gospel-tinged country singer whose debut record from 1958 sells for an alarming 15 bucks on Ebay. Yes, Fern Jones has "shoulda been legend" written all over her. Fern has been infamously described as like "Patsy Cline on Jesus," or "Elvis without the pelvis." If those descriptions don't have you intrigued, how about the fact that Fern's backing band also did sessions with everyone from Roy Orbison to Hank Williams Sr. to Johnny Cash.
Aquarius Records

Man, what a great set of releases the Numero Group is building. Each one not only details a particular artist/label in song, but through well-considered packaging and extensive liner notes we get a great sense of what went on behind the music. Amazing! Well, this time round, we have Fern Jones. A gifted gospel singer, who's voice carries similar croon power and soul-fire intensity as Patsy Cline or a young Elvis.

Fern's career was bittersweet, however. Early on, Fern and husband played/sang their hearts out through Evangelical tent tours all over the South, selling a vanity recording (The Joneses Sing) out of the back of their sedan. Dot Records soon released Singing A Happy Song in 1959, for which Fern had acquired a stunning backing band: Hank "Sugarfoot" Garland on guitar (Roy Orbison, Marty Robbins, Conway Twitty, Hank Williams Sr., Everly Brothers), Floyd Cramer on piano (Booby Bare, Patsy Cline, Wings, Johny Cash, Chet Atkins), Joe Zinkan on bass (Jerry Lee Lewis, Carl Perkins, Merle Haggard, Loretta Lynn), and Buddy Harman on drums (Reba McEntire, Hank Snow, Willie Nelson) -- all of whom were fresh off a 1958 session with Elvis.

Despite several tours (without a single to promote), Fern's "rockabilly gospel style" songs never caught on with a conservative buying public. Fern soon stopped performing all together and found it impossible to gain back the rights to her songs after the label's lease was up. After constant threat that the master tapes might be destroyed (as were all others from that era of Dot) and a fifteen-year letter-writing campaign, Dot Records' second owners, MCA, finally awarded her the rights to these songs once again. And thankfully so. They're amazingly powerful devotionals. If you're a fan of Patsy Cline, and who isn't, you'll love love love these Fern Jones songs!

Other Music

If you're keeping a scorecard here, mark this the fifth release from the wonderful reissue label The Numero Group, the inventive and knowledgeable curators who recently gave us the two Eccentric Soul comps, Yellow Pills power-pop compilation, and Antena's 1981 electro-samba masterpiece. Fern Jones' album marks ANOTHER new direction for the label, this time reaching back to the late-1950s, and the singular, soulful, and surprising rockabilly gospel hybrid that was Fern Jones. Jones was a poor young southern girl and a talented guitarist and singer in love with the pop of Bing Crosby and the Ink Spots, as well as the raw blues and R&B that was featured in the honky-tonks around El Dorado, AK, when at 16 she married a short-order cook named Raymond Jones. Ray soon heard the calling to preach, and Fern and Ray's lives would be forever changed as they heeded the Lord's call.
But as Ray pulled Fern from the roadhouse, Fern pulled him from the settled church-life, and implored him to take their message to the people on the Pentecostal tent-revival circuit. Their ambitions were modest, touring the south for years in small-time tent revivals, preaching and bringing the Lord's song to gatherings of a few hundred or maybe a few thousand souls. As Ray would rise at dawn to read the scriptures, he would often cross paths with Fern, just off to bed after a long night singing and strumming and laboriously writing original spirituals for her show. Fern recorded and self-released an album of mostly original tracks that the couple sold out of their trunk throughout the south. When Grand Old Opry star and ex-Louisiana governor Jimmie Davis had a hit with her "I Was There When It Happened" (Jones sold him the rights to the song, and in the custom of the time, he claimed half of the songwriting credit), and soon after Johnny Cash included the track on his debut Sun LP, it seemed that Fern's star was on the rise. The couple decided to give up the life of preaching, hoping they could make more of an impact with Fern's powerful songwriting and earthy, emotional and utterly laid-back singing style, and they settled in California to focus on her recording and touring career.
Fern released one sole "professional" album, Sing A Happy Song, on Dot Records in 1959, produced by Mac Wiseman (a veteran of Bill Monroe's band), and featuring the best of the Nashville studio scene, including Hank "Sugarfoot" Garland, Floyd Cramer, Joe Zinkan and Buddy Harman (all fresh from studio sessions with Elvis). The album, included here in its entirety, sounds as fresh and beautiful as a Sunday morning, but retains a raw emotion and love of life that speaks of Saturday nights. Of course this mix of country-gospel-rockabilly-blues, so fresh and honest to our ears today, likely was a shock to both gospel and pop fans at the time, and after several lonely tours on the theater circuit and typical label shenanigans and snafus, Fern Jones quietly retired from professional music. We have the Numero Group to thank for keeping her spirit and soul alive, and this excellent collection, featuring stunning originals as well as several wonderful traditional gospel numbers and soul-gospel treats, all done in the inimitable Fern Jones style, is a treat from start to finish. A welcome coda to a career that touched many lonely souls, but was perhaps too artistically pure to reach the mainstream. [JM]
Southern hillbilly soul from Fern Jones -- a minister, church singer and songwriter with a real feel for the secular shake of the 50s -- a pure evangelical with a worldly groove! Fern sings in the torch country style of Patsy Cline, often with spare rockabilly-styled guitar and drums!

Now Playing Magazine
"Earplugs" by Steven Hanna
Fern Jones beams out from the cover of a new reissue of her lone 1959 album, hair curled in a modest '50s perm and eyes raised reverently toward the heavens. If you're thinking Jones doesn't exactly look like the sort of person to be kicking back in golden-era Nashville with the progenitors of rock and roll, well, wait'll you hear the stuff she was singing.
"Some folks say the Bible is not true," Jones warbles in her drawling Southern alto, "or that its teachings we cannot receive/ well, I don't care what the world may say/ I believe, oh Lord, yes I believe." That crackerjack band backing her as she affirms her Christian belief? That's Elvis's band, made up of the top players of the day, whose toughened-up approach to country/gospel edged it toward rhythm and blues and pretty much laid the blueprints for what came to be known as rock. And these fiery performances of theirs behind a diffident preacher's wife belting out fervent declarations of faith? They haven't been heard in 40 years.
"It's a missing link record," notes Ken Shipley of the Numero Group, the label responsible for this gorgeously-packaged edition of The Glory Road. "It's a missing link between the secular world of Elvis and Jerry Lee Lewis and Little Richard, and the non-secular world that they were living in before. And it was an accident. Fern's really this kind of uptight Christian woman, who's out of place in a lot of ways on this record. It was recorded with these huge superstars of Nashville, people she would've never hung out with. But, you know, in like 1958 everything kind of clicked together."
Married at age 14 to an itinerant churchman who nudged her away from her honky-tonk leanings and into a life of sacred music, Jones penned a pile of gospel tunes including the classic "I Was There When it Happened," Fern's version of which graces The Glory Road and gives the great Johnny Cash rendition a run for its money. The recordings collected here came during a brief flirtation with traditional music performance, but it turned out that Jones was unsuited for the grind of live shows outside the waning church circuit, and she and her husband retired to California in 1960. The record was yawned into out-of-print obscurity, only rescued several years after Fern's death when her daughter heard an NPR broadcast about the burgeoning Numero Group and contacted them to hand over a master tape and a pile of obscure 78s. The strengths of what he had on his hands were immediately obvious to Shipley: "If you made these songs about drinking or loving, or something else, you would think it sounds just like a Patsy Cline record. Fern's voice is there. And we couldn't get over Hank Garland's blazing guitars on 'Didn't it Rain' and 'Strange Things Happening Every Day.' When I started doing research on it, it was like 'Oh my God, historically this is such an important record. We really should do this.'"
What Shipley insists he wasn't thinking of, however, was the increasingly conservative, and increasingly fractious, America of 2005 that would be receiving his lovingly restored reissue. Although its earliest practitioners from Presley on filled up a lot of tape with renditions of the gospel favorites they learned in church, subsequent rockers have been pretty shy about making any foray into Christian music. In recent years, however, religious fervor among the record-buying young has been on an upswing, to the point where groups that wear their faith on their sleeves have been finding ever-more-prominent places on Sam Goody shelves. Rock was steered in its earliest days fairly firmly away from the sacred, and you can't help feeling it will always retain a decidedly un-religious air: Spinal Tap's little Stonehenge speaks to rock's weird pagan appeal, while the term "Christian rock" is sometimes viewed as a kind of oxymoron. It's not hard to think of the rightward swing even MTV has begun to take as a move towards a blander if more devout rock and roll. But listening to Jones' record, which represents a road up till now never taken by rock, you can hear the uneasy cohabitation of guitars and gospel settling into a peaceful, often thrilling détente. It's well worth a spin.
The Onion a.v. club
Fern Jones is best known, where she's known at all, for the gospel song "I Was There When It Happened," but in 1959, she threatened to carve out her own genre when she recruited some Nashville studio aces to cut her Christian rockabilly album Singing A Happy Song. If that sounds like an unlikely combination, consider the Pentecostal undercurrents of Jerry Lee Lewis. Or better yet, listen to The Glory Road (Numero Group) which collects Happy Song and a few miscellaneous sides from Jones' fervent, rocking, too-short career...
---