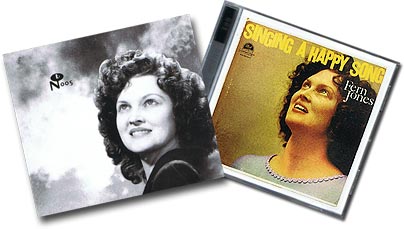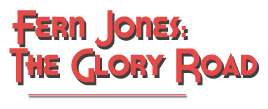 Reviews Radio Interview Buy the CD


Fern Jones's 1959 LP "Singing A Happy Song", along with additional material, has been re-mastered and released by the Numero Group as "Fern Jones: The Glory Road". The following press statement announced the release of the CD:
"She sounded like Saturday night on a Sunday morning. Patsy on Jesus. Elvis without the pelvis. A mother, a wife, even an ordained minister. In the space of 20 years Fern Jones would perform in over 2000 tents and churches for nearly 50,000 people. She'd release two albums and a few impossibly rare 78s, and write one song that would be a classic on the gospel circuit for years to come.

So why hasn't anyone ever heard of Fern Jones? How is her record selling on Ebay for less than $15? How is it possible that rockabilly scholars can tell you every detail about the
players on Fern's album, but not a single thing about her? In what world can a musician be covered by Jimmie Davis, the Blackwood Brothers, Jimmy Swaggart, and even The Man
In Black himself, Johnny Cash, and yet not register so much as a footnote in any history of country or gospel music? How could something so wonderful be so impossibly obscure?

From a purely historical perspective, we knew we had to release this record. Singing A Happy Song had not one, not two, but four members of Nashville's prestigious A-team fresh off June 1958 sessions with Elvis. Hank "Sugarfoot" Garland was on guitar (Roy Orbison, Marty Robbins, Conway Twitty, Hank Williams Sr., Everly Brothers), Floyd Cramer played piano (Bobby Bare, Patsy Cline, Wings, Johnny Cash, Chet Atkins), Joe Zinkan on bass (Jerry Lee
Lewis, Carl Perkins, Merle Haggard, Loretta Lynn), and the lovable Buddy Harman on drums (Reba McEntire, Hank Snow, Willie Nelson). Why this towering foursome was backing up a preacher's wife from Arkansas is anyone's guess.

The lone album Fern Jones released on Dot Records in 1959 was the culmination of almost 20 years on the gospel highway. Singing A Happy Song was Sister Fern bringing the same untamed energy to church music that young white Southerners were bringing to their rock n' roll. Without a single released from the album, Fern was destined to sell hardly a record nor even hear her recordings on the radio. Her rockabilly gospel music was probably too radical a
departure for the conservative, traditional field anyway. Fern's final concert appearance took place on May 20, 1960 in Long Beach, California, hosted by a local country radio station. No announcement of her retirement was made; she simply stopped performing.

Dot Records closed the doors to their gospel division almost as soon as they opened them. Their parent company, Paramount Pictures, was more interested in records about surfing than salvation. The master tape of Singing A Happy Song, by all accounts, should have been destroyed when Paramount's new owner, Gulf & Western, decided to delete Dot's entire back catalogue. Yet somehow it survived, and in 1968, after the ten-year lease on the recordings expired, Fern Jones initiated a letter-writing campaign. After fifteen years of Fern's pleading, MCA, then in control of Dot Records, relented. Fern's prodigal child had finally found its way home.

Though Fern Jones' career was marked by missed connections and missed opportunities, the making of The Glory Road was, for us, one pleasant surprise after another. The very way it came together was itself an accident. Cosmic, perhaps. We had done a spot on NPR about our Capsoul release on the third Sunday of August 2004. Fern Jones' daughter Anita Garner was listening as I described the process of releasing the Capsoul record. Intrigued, she
tracked down our mastering engineer, Jeff Lipton, and asked him to transfer the recordings her mother had made nearly 50 years earlier. Despite half a century of sitting in vaults and storage spaces, the tape played as though it had been recorded the week before. Not a
hiccup or drop out to be found. Jeff called me a few days later to discuss the roundabout way we had brought him business and also to plant the seed that these recordings belonged on Numero.

Sometimes you know a record is going to be great before you ever drop the needle. This was certainly the case with Fern. We didn't know we were going to release a gospel record before Jeff called, but somehow by the end of the conversation I had a feeling we would be. The Numero Group is proud to add Fern Jones: The Glory Road to its library of the world's finest unheard music."
---