Anita is the winner of the John Steinbeck Short Story Award for her story, "Hank Williams Was A Friend Of Mine." Describing the winning entry, contest judge and best-selling author, Michelle Richmond, says:
"A family from Arkansas travels to California to visit relatives for Christmas in 1952, leaving the patriarch and preacher back home to tend to his congregation. Crisis comes in the form of a startling death, which leaves the family wondering about the fate of the deceased's soul. Anita Garner has created an affecting portrait of a Southern family, full of robust characters whose desires don't always match up. Garner's story touches beautifully on our culture of iconography, whereby people we've never met become deeply embedded in our personal history."
---
Anita is the subject of a Marin (CA) Independent Journal article, "Johnny Cash film revives a gospel classic with Marin ties". More...
---
Anita is awarded a Marin Arts Council Individual Artists Grant in the Prose category, for her story, "Hank Williams Was A Friend Of Mine".

Welcome.

We created this website as a virtual scrapbook and a sampler of sounds. If there's something you need that you don't see here, email us and we'll get it for you.
I was raised on radio, singing for the first time at the age of three on my family's gospel program in Columbus, Georgia. All my life, our family was on the air. We were a band of gospel gypsies, traveling the Southern states. Daddy and Mother preached and sang and played several instruments and taught us kids to sing harmony. This was the family business.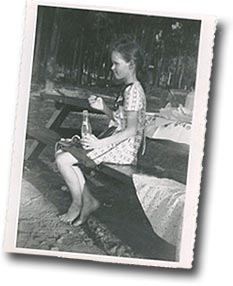 At a picnic in the piney woods
of Arkansas, 1951.
Starting back then, every-
thing revolved around words and music, and everything still does. I continued to perform for years. I've always worked in radio and television, and have kept writing. For updates on all projects, please visit www.anitagarner.com.